TransIT®-QR
適合 Plasmid DNA、siRNA 的活體核酸運送 (轉染) 實驗。
超低細胞毒性,注射後對老鼠生理 (心輸出量) 產生的影響性遠低於生理食鹽水。
獨家特殊配方,不需搭配使用 Polymer 聚合體即可擁有高於一般聚合體試劑 (如 Polylysine、PEI) 的運送效率。
可搭配 pLIVE® Vector 使用,使目標基因專一性地於肝臟中大量表現。
歡迎與我們聯繫索取更多 TransIT®-QR 產品資訊與文獻。
產品效能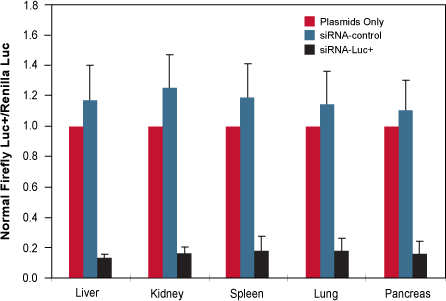 Fig. 1 | Reporter Gene Knockdown in Multiple Organs After Co-delivery of siRNA and Reporter Plasmids.
Mice were injected with 10 µg of plasmid encoding firefly luciferase, 1 µg of plasmid encoding Renilla luciferase, 5 µg of siRNA targeted against firefly luciferase, and 5 µg of control siRNA using the
Trans
IT
®
-QR Delivery Solution. Twenty-four hours later, the samples were assayed for firefly and Renilla luciferase activity. The level of firefly luciferase expression was normalized to Renilla activity and compared to numbers obtained using the control siRNA.
Lewis et al., Nature Genetics 32: 107-8, 2002.
Following gene delivery via a tail vein injection, the highest level of transgene expression is found in the liver, with reduced levels of expression found in the spleen, lung, heart and kidneys. siRNA delivery to these organs is not sufficient to achieve appreciable endogenous targeted gene knockdown.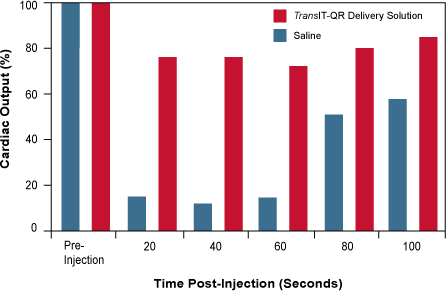 Fig. 2 | The TransIT®-QR Solution Minimizes the Loss of Cardiac Output Compared to Injections Performed Using Normal Saline. Mice were anesthetized, connected to an arterial blood pressure monitor, and injected with either TransIT®-QR (Quick Recovery) Delivery Solution (red) or normal saline (blue) using the hydrodynamic tail vein injection procedure. The relative cardiac output was estimated by multiplying the heart rate by the pulse pressure (difference between systolic and diastolic pressures) and scaled to the pre-injection cardiac output.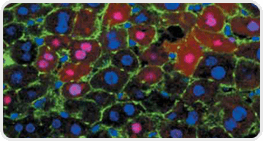 Fig. 3 | TransIT®-QR Delivery Solution Effectively Delivers the Label IT® Cy®3 RNAi Delivery Control to Hepatocytes. TransIT®-QR Delivery Solution was used to deliver 25 µg of Label IT® Cy®3 RNAi Delivery Control (red) to a mouse using hydrodynamic delivery via the tail vein. Forty-five minutes post-injection the liver was harvested and sections were fixed then counterstained to stain the nuclei (blue) and to stain the actin (green).
訂購資訊
| Product Name | Pack Size | Cat. No. |
| --- | --- | --- |
| TransIT®-QR Delivery Solution | 40 injections | MR-MIR5240 |
| pLIVE® Vector | 20 µg | MR-MIR5420 |
| pLIVE® Vector/lacZ Control Vector Kit | 20 µg of each vector | MR-MIR5520 |
| pLIVE® Vector/SEAP Control Vector Kit | 20 µg of each vector | MR-MIR5620 |
| pLIVE® Vector Complete System | 20 µg of each (all 3 vectors) | MR-MIR5320 |