TransIT®-LT1
良好的轉染效率:可有效地將 DNA 樣本轉染至多種細胞類型。
低細胞毒性:可減輕試劑本身對細胞生長的影響性,降低實驗變異因素。
節省時間與經費:單一試劑與實驗流程即可適用在多種細胞的轉染實驗,有效節省實驗花費與縮短測試時間。
應用範圍廣泛:可應用在單個或多個 Plasmid DNA 的轉染實驗,應用領域包含:重組蛋白表現、siRNA, shRNA, miRNA 表現、病毒顆粒生產、報導基因等。
歡迎與我們聯繫索取更多 TransIT®-LT1 產品資訊與文獻。
產品效能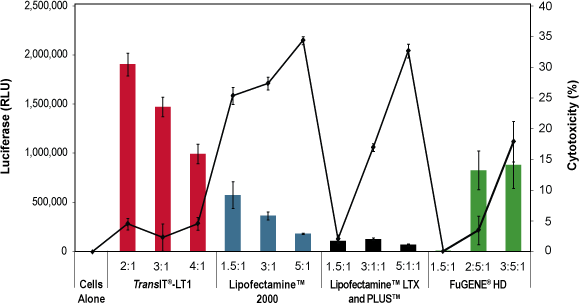 Fig. 1 | The TransIT®-LT1 Reagent Exhibits Higher Expression and Lower Cellular Toxicity Compared to Other Transfection Reagents. HepG2 cells were transfected with a luciferase expression plasmid using the designated reagents at the manufacturer's recommended reagent-to-DNA ratio indicated beneath each bar. Transfections were performed in 96-well plates using 0.1 µg of plasmid DNA per well. Luciferase expression (bar graph) and lactate dehydrogenase (LDH) levels (line graph) were measured at 24 hours post-transfection. LDH levels are reported as % cytotoxicity compared to cells alone and were measured using a commercially available colorimetric assay; all values at or below zero are represented as zero on graph. Experiments were performed as per industry accepted testing protocols. FuGENE® is a registered trademark of Fugent LLC. Lipofectamine® is a trademark of Life Technologies Corporation.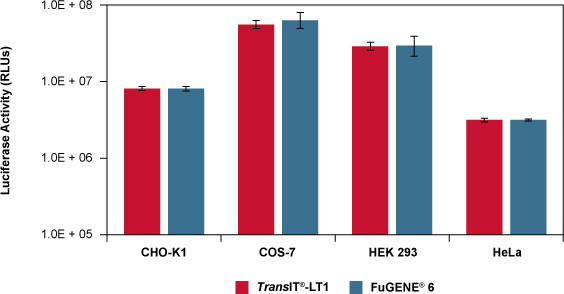 Fig. 2 | Comparable Luciferase Expression with the TransIT®-LT1 Reagent and FuGENE® 6 in Multiple Cell Types. The indicated cell lines were transfected in duplicate with 1 µg of a luciferase expression vector per well of a 12-well plate using either 3 µl of the TransIT®-LT1 or FuGENE® 6 Reagents according to industry accepted testing protocols. Cells were harvested 24 hours post-transfection and assayed for luciferase activity. FuGENE® is a registered trademark of Fugent LLC.
Fig. 3 | Exceptional Transfection Efficiency in Human Induced Pluripotent Stem Cells (iPSCs) via Reverse Transfection with TransIT®-LT1. The TransIT®-LT1 Transfection Reagent was used to reverse transfect 1.3 x 10⁶ iPS cells with a ZsGreen expressing plasmid (Clontech). Reverse transfections were performed in 6-well plates using 12 µl of TransIT®-LT1 Transfection Reagent to deliver 4 µg of DNA (3:1, reagent: DNA). Cells were visualized 48 hours post-transfection and imaged under a 10X objective with an Olympus IX71® Inverted Microscope. Images are (A) phase contrast and (B) green fluorescence. Cells were assayed 48 hours post-transfection on an Accuri® Cytometer. The histogram (C) shows untransfected cells (black line) compared to cells transfected with plasmid using TransIT®-LT1 (green line).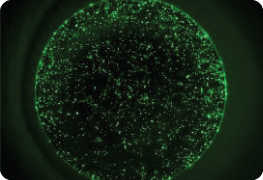 Fig. 4 | High Efficiency Transfection of iCell® Cardiomyocytes Using TransIT®-LT1 Transfection Reagent. iCell® Cardiomyocytes were plated at 20,000 cells/well in a 96 well tissue culture plate coated with 0.1% gelatin. After allowing the cells to recover from thaw, cells were transfected with 100 ng/well of pMAXGFP (Lonza) using TransIT®-LT1 Transfection Reagent with a 2:1 reagent-to-DNA ratio according to the manufacturer's instructions. Fluorescent images were taken 3 days post transfection using a Olympus IX71® inverted microscope.
訂購資訊
Product Name
Pack Size
Cat. No.
TransIT®-LT1 Transfection Reagent
0.4 ml

---

1.0 ml

---

5 x 1.0 ml

---

10 x 1.0 ml
MR-MIR2304

---

MR-MIR2300

---

MR-MIR2305

---

MR-MIR2306