Bullet Blender® 組織均質機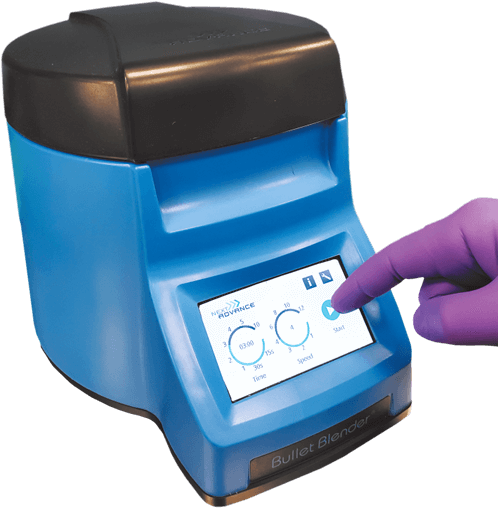 一次最多可同時均質 24 個樣本。
樣本一致性高、減少汙染。
操作容易快速。
不綁耗材,降低實驗成本。
產品效能
Bullet Blender® 可廣泛適用於多種樣本類型,包含:細胞、動植物組織以及小型模式生物,例如:斑馬魚 (D. rerio)、果蠅 (D. melanogaster)、線蟲 (C. elegans) …。應用範圍包含:萃取細胞中的 DNA、RNA、蛋白質、胞器、病毒,以及分離組織中的細胞或微生物。歡迎與我們聯繫索取更多產品資訊與文獻。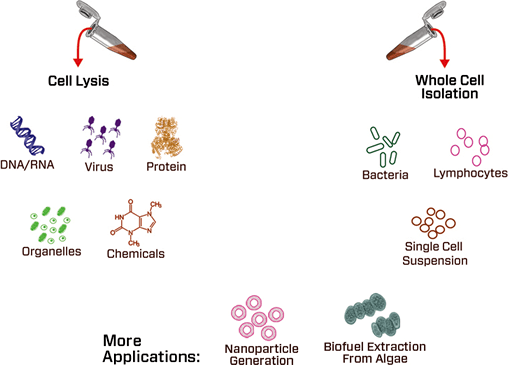 Fig. 1 | So Many Uses, So Easy To Use. In addition to homogenizing tissue, plant matter, small organisms and microorganisms, the Bullet Blender tissue homogenizer can also isolate live bacteria from organs, generate nanoparticles, and isolate organelles from cells.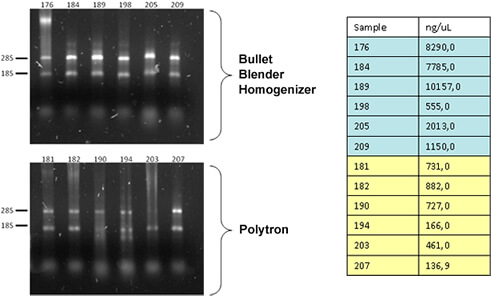 Fig. 2 | RNA extraction result. Data from melanoma cells showing the large and small ribosomal subunits (18S and 28S). These results show that you can extract higher yields of RNA using the Bullet Blender compared to a Polytron (hand held homogenizer).

Fig. 3 | Cell dissociation result. Fluorescence-activated cell sorting results (FACS) for spleen tissue dissociated in the Bullet Blender vs. cells isolated using enzymatic digestion (CLASSIC). Two different fluorescent labels are attached to antibodies that bind to specific types of cells, allowing them to be grouped into different "populations". Here we see that the two methods are comparable, with good viability and yield.
產品規格
適用於 1.5 ml microcentrifuge tubes 的 Bullet Blender 機型(樣本量 ≤300 µl)
| | Lite | Storm Pro | Gold |
| --- | --- | --- | --- |
| | | | |
| Cat. No. | O-BT12LT | O-BT24M | O-BB24AU |
| Made in the USA | ✓ | ✓ | ✓ |
| Throughput | Up to 12 samples | Up to 24 samples | Up to 24 samples |
| Range of speeds allows for gentle vortexing, vigorous homogenization, or anything in between | ✓ | ✓ | ✓ |
| Can be used in temperatures ranging from 4°C to 40°C | ✓ | ✓ | ✓ |
| Can homogenize samples in Eppendorf® Safe-lock™ snap-cap tubes | ✓ | ✓ | ✓ |
| Can homogenize samples in RINO screw-cap tubes | Need adapter kit | ✓ | ✓ |
| Extra-powerful homogenization for tough samples | | ✓ | ✓ |
| With Air Cooling to keep the inside of the instrument near ambient temperature | ✓ | ✓ | ✓ |
| With 4°C Cooling™ | | | ✓ |
| With color graphics display touch screen technology | ✓ | ✓ | |
| With color graphics display and built-in protocol library | | | ✓ |
適用於 5 ml tubes 或 50 ml tubes 的 Bullet Blender 機型(樣本量 >300 µl)
| | 5E Pro | 5 Storm | 50 DX | 5 Gold | 50 Gold |
| --- | --- | --- | --- | --- | --- |
| | | | | | |
| Cat. No. | O-BT5E | O-BBY5M | O-BB50DX | O-BB5EAU | O-BB50AU |
| Made in the USA | ✓ | ✓ | ✓ | ✓ | ✓ |
| Homogenization of up to 12 samples from 100 mg – 1 g (100 µl – 1 ml for plant tissue, insects and cell culture) in 5 ml Eppendorf tubes | ✓ | | | ✓ | |
| Homogenization of up to 12 samples from 100 mg – 1 g (100 µl – 1 ml for plant tissue, insects and cell culture), for wet or dry grinding in 5 ml Axygen® tubes | | ✓ | | | |
| Homogenization of up to 8 samples from 100 mg – 3.5 g (100 µl – 3.5 ml for plant tissue, insects and cell culture) in 50 ml TPP tubes | | | ✓ | | ✓ |
| Range of speeds allows for gentle vortexing, vigorous homogenization, or anything in between | ✓ | ✓ | ✓ | ✓ | ✓ |
| Can be used in temperatures ranging from 4°C to 40°C | ✓ | ✓ | ✓ | ✓ | ✓ |
| With Air Cooling to keep the inside of the instrument near ambient temperature | ✓ | ✓ | | ✓ | ✓ |
| With 4°C Cooling™ | | | | ✓ | ✓ |
| With color graphics display and built-in protocol library | | | ✓ | ✓ | ✓ |
訂購資訊
| Product Name | Sample Tube Size | Cat. No. |
| --- | --- | --- |
| Bullet Blender Lite | 1.5 ml | O-BT12LT |
| Bullet Blender Storm Pro | 1.5 ml | O-BT24M |
| Bullet Blender Gold | 1.5 ml | O-BB24AU |
| Bullet Blender 5E Pro | 5 ml | O-BT5E |
| Bullet Blender 5 Storm | 5 ml | O-BBY5M |
| Bullet Blender 50 DX | 50 ml | O-BB50DX |
| Bullet Blender 5 Gold | 5 ml | O-BB5EAU |
| Bullet Blender 50 Gold | 50 ml | O-BB50AU |